Beth Torina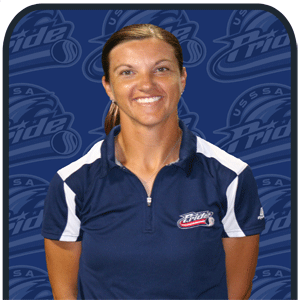 Beth Torina is in her first season as the head coach of the USSSA Pride. Torina joined the Pride's coaching staff in 2010, making her National Professional Fastpitch (NPF) debut as an assistant coach and helping to lead the Pride to the franchise's first-ever NPF Championship in that same year.
Also in 2012, Torina became the head softball coach at Louisianna State University in Baton Rouge. Previously, Torina spent four years at the helm at Florida International University in Miami. Torina was twice named the Sun Belt Coach of the Year during her FIU head coaching campaign.
Prior to her arrival at FIU, Torina spent six years at the University of Houston (2002-07), helping the Cougars to a pair of NCAA Tournament appearances and taking charge of a pitching unit that was statistically ranked as one of the best in the nation. In 2007, Houston not only won the Conference USA Championship and advanced to the NCAA Tournament for the second time in three years, but the pitching corps also ranked 15th in the nation in ERA (1.66) and 23rd in strikeouts per seven innings (7.31), en route to a 44-18 overall record.
While serving as the program's recruiting coordinator, Torina saw one of her most prized recruits, Angel Shamblin, go on to become a two-time C-USA Pitcher of the Year, an All-South Region pick and a 2008 All-America selection. In addition to Shamblin, Torina saw seven Cougar hurlers receive all-league accolades during her tenure.
Torina began her coaching career as an assistant coach at Stetson University from 2000-02, leaving her mark on the Hatters softball program after helping lead the 2001 squad to an Atlantic Sun Conference Regular Season Tri-Championship. Torina's pitchers set school records for wins (45), shutouts (20), strikeouts (385) and strikeouts per seven innings (6.70).
A four-year letter winner at the University of Florida, Torina is still listed near the top of the Gator record book with 60 career wins and 716 career innings pitched. She was a member of Florida's 1998 Southeastern Conference Regular Season Championship team as the squad's top pitcher. Torina posted 20-win seasons in each of her last two years in a Gator uniform and was a two-time SEC Pitcher of the Week over her career.
Torina also excelled in the classroom at Florida, receiving numerous academic awards. She was an NFCA Scholar-Athlete (1997-2000), a member of the All-SEC Academic Team (1998-2000), a GTE Academic Third-Team All-American (2000), a and recipient of the SEC's H. Boyd McWhorter Scholar-Athlete Award. Torina earned a bachelor's degree in health sciences in occupational therapy from UF in 2000.