Lauren Sweet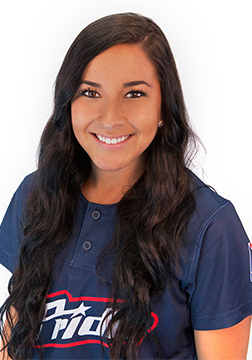 Height: 5'5″   Bats: L  Throws: R
Years Pro: 2nd year
College: Michigan
Hometown: Corona, CA
Social Media: Click Here
PROFESSIONAL: Enters her second season in the NPF with the USSSA Pride. Signed on as a free agent before the 2016 season.
2016 Season: In 21 at-bats Sweet finished hitting .095 with 3 runs scored, 2 hits, 2 RBI, 1 HR and a .238 slugging percentage.
COLLEGE: Senior (2015): First-team NFCA Great Lakes All-Region selection. Second-team All-Big Ten. Academic All-Big Ten and U-M Athletic Academic Achievement Award. Appeared in 60 games. Junior (2014): Named to the All-Big Ten second team and earned the U-M Athletic Academic Achievement Award. Batted .339 with 6 homers and 21 RBI in Big Ten games. Sophomore (2013): First team All-Big Ten and named Big Ten Player of the Week. Freshman (2012): Big Ten Freshman of the Week. Started 50 games at catcher and totaled 11 multi-hit games. Hit six home runs and was second on the team with 10 doubles.
PERSONAL: Born Lauren Chanel Sweet on July 31, 1993 to Troy and Carol Sweet. Has an older sister, Jackie Sweet, who played softball at the University of Utah. Graduated from the University of Michigan with a major in elementary education.