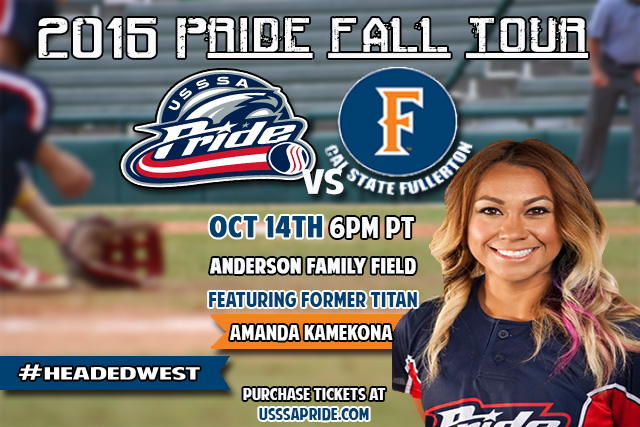 Tempe, AZ-It was a beautiful Thursday night in the ASU desert for a Pride and Sun Devil face-off. Thursday's game was the first of five the Pride will play during the 2015 Fall Tour. Not playing since August it was refreshing to see the Pride back in uniform.
Former Sun Devils Amber Freeman and Dallas Escobedo enjoyed the familiar atmosphere in Tempe and couldn't be happier to be back in front of their home crowd teaming up against their alma mater. Freeman and Escobedo played three years of Sun Devil softball together and couldn't be closer.
The game ended late for east coast fans but the Pride took game one of the Fall Tour, 6-2 (box score), in front of a crowd of 1,323 in the Farrington stands.
In five days, the Pride will face Cal State Fullerton following a few more days in Arizona. (The Pride are making a stop in Gilbert, AZ to help with the All-American Elite Camp starting today.) First pitch for game two is set for 6PM (PT) on Anderson Family Field. This exhibition game will feature former Titan Amanda Kamekona who well before her days as a UCLA bruin and way before her days as a professional played for the Titans.
"I am beyond excited to be playing both on the West Coast and at Cal State Fullerton. Being able to take the same field you played on collegiately, but now as a professional is very humbling and naturally brings up feelings of nostalgia in addition to putting into perspective how things can come full circle. I can't wait!" said Kamekona about returning to Fullerton. Kamekona played for Fullerton her freshman and sophomore years of college before transferring to UCLA.
Tickets for game two of the Fall Tour can be purchased on the Cal State Fullerton website for $5.00.
Tickets to the remaining Fall Tour games can be purchased here.
Following the Fullerton match-up the Pride will make three more stops on the 2015 Pride Fall Tour (Cal State Northridge on October 17th, Cal Poly on October 19th, and Fresno State on October 21st) and hope to expose the west coast to professional fast pitch in the process.
You can also find the Pride at the following All-American Elite Camps: Cathedral City, CA (October 16th), Elk Grove, CA (October 23rd), Shawnee, KS (October 30th) and McKinney, TX (November 6th).
Follow the Pride all season long on Facebook, Twitter, and Instagram!
About USSSA Florida Pride:
The USSSA Florida Pride is a professional franchise in the National Pro Fastpitch League that is owned and operated by USSSA. The amateur organization of USSSA has multi-sport coverage and encompasses teams and players from the United States and abroad.
About NPF:
National Pro Fastpitch is headquartered in Nashville, TN. The league, created to give elite female fastpitch players the opportunity to pursue a professional career in their chosen sport, has operated since 1997 under the names of Women's Pro Fastpitch (WPF) and Women's Pro Softball League (WPSL). NPF is the Official Development Partner of Major League Baseball in the category of women's fastpitch softball since 2002.
About USSSA:
USSSA is headquartered in Osceola County, Florida. USSSA is the World's Largest Multi-sport Athletic Organization. Founded in 1968, USSSA has grown to over 3.7 million participants, competing in 13 nationally sanctioned sports including Baseball, Fastpitch, Slow Pitch, Karate, Basketball, Soccer and more! For more information on USSSA and to register your team visit USSSA.com. Also be sure to visit USSSAToday.com for the latest USSSA.