Shelby Pendley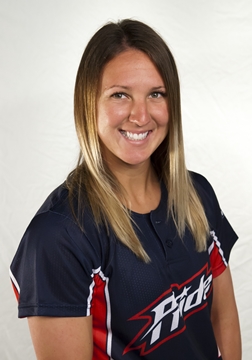 Position: Infield
Height: 5'7″   Bats: L   Throws: R
Years Pro: 3rd year
College: Oklahoma
Hometown: Rio Rancho, NM
Social Media: Click Here
PROFESSIONAL: Shelby Pendley enters her third season with the Pride. In 2016 Pendley secured a spot on the All-NPF team for the second year in a row finishing with a strong offensive finish for the Pride. Following her rookie debut, Pendley earned Rookie of the Year honors and was named to the 2015 All-NPF team (2B). Pendley was drafted 2nd overall out of Oklahoma in the 2015 NPF College Draft by the USSSA Pride.
2016 Season: In her second year Shelby Pendley finished the season hitting .338, second best of the 2016 Pride roster and fourth best in the league. Her regular season on-base percentage (.447) and RBI (35) were second best for the Pride and she led the Pride offense in doubles (9), tied with Kelly Kretschman. In 160 at-bats, she closed out her second season with 33 runs scored, 54 hits and 9 home runs.
2015 Season: Shelby Pendley had an explosive rookie debut in 2015, starting off her professional career going 4-4 in her first NPF appearance including her 1st career home run. Pendley led all NPF rookies in eight offensive categories and became the third Pride player to win Rookie of the Year. She finished the season hitting .302 with 6 HR, 22 runs scored, 39 hits, 17 RBI and led the Pride with 10 doubles.
COLLEGE: Holds the second-best slugging mark and fifth-best batting average at .841 and .396 respectively, in Big 12 history. Two-time All-Big 12 First Team member. Senior (2015): 2015 NFCA First-Team All-American. 2015 Big 12 Player of the Year. 2015 Academic All-Big 12 First Team. 2015 All-Big 12 First Team. Led the team in batting average, at-bats, hits, doubles, homers, RBI and total bases. Led the Big 12 in home runs and home runs per game. Ranked 5th nationally in home runs and 6th in HR per game. Posted the third highest slugging percentage and home run total in Big 12 and OU single-season history. Junior (2014): NFCA First-Team All-American, First-Team All-Region, 2014 All-Big 12 Defensive Team, member of 2014 WCWS All-Tournament Team and Academic All-Big 12 First Team. Sophomore (2013): 2013 Big 12 Player of the Year, Second-team All-Region, NFCA Second-Team All-American. Freshman (2012): All-Pac-12 First Team at Arizona.
PERSONAL: Born Shelby Lynn Pendley on December 2, 1992 to Jerry and Jeri Pendley. She has an older brother, Matthew, and a younger sister, Nicole, who plays outfield for the University of Oklahoma. Shelby majored in Multidisciplinary Studies with an emphasis in Coaching and Leadership at Oklahoma.