Lauren Chamberlain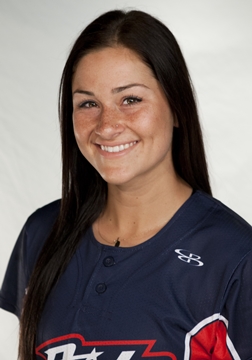 Height: 5'9″   Bats: R   Throws: R
Years Pro: 3rd year
College: Oklahoma
Hometown: Trabuco Canyon, CA
Social Media: Click Here
PROFESSIONAL: Lauren enters her third season with the USSSA Pride. Lauren was drafted 1st overall out of Oklahoma in the 2015 NPF College Draft by the USSSA Pride.
2016 Season: In her second season Lauren was awarded the 2016 Jennie Finch Award for leadership and humility on and off the field. She finished the season hitting .212 with 20 runs scored, 25 hits, 9 home runs, 26 RBI and an on-base percentage of .347.
2015 Season: Chamberlain finished her rookie season with 11 RBI's, 5 home runs, 18 hits, a .300 on base percentage, and a .205 batting average.
COLLEGE: Finished her career with an NCAA record 95 home runs and .960 slugging percentage. In NCAA annals, ended career fifth in runs scored (272), ninth in walks (207) and 10th in RBI (254). Owns Big 12 record for home runs, slugging, runs scored, RBI, total bases (583) and walks. Recorded school records for career on-base percentage (.556), and extra-base hits (145). Holds third-highest batting average in OU history and sixth-highest in Big 12 history (.395). SENIOR (2015): Led the team in runs (72), RBI (65), slugging (.993), walks (62), HBP (8) and on-base percentage (.589). Led the Big 12 in on-base percentage, slugging, walks and runs per game (1.29), ranked second in HR per game (0.41), HR and RBI and was third in RBI per game (1.16). Ranked second nationally in runs per game, fourth in slugging and walks, seventh in OBP, 10th in home runs and 11th in HR per game, Recorded second-best slugging percentage and run total in Big 12 history and OU history. Junior (2014): Ended the 2014 season with the best slugging percentage (.950) in NCAA history and ranked 10th in career home runs, 1st in Big 12 history at 72, 4th in RBI (189), 5th in runs scored (200), 6th in batting average (.394) and walks (145) and 8th in total bases (436). Sophomore (2013): Led the nation in home runs (30), home runs per game (0.49), slugging percentage (1.113) and runs per game (1.43). Freshman (2012): Set Big 12 single-season home run record (30). Was second in the nation with 30 home runs, sixth with 1.22 RBI per game and ninth with a school-record .878 slugging percentage. Three-time Big 12 Player of the Week, the first freshman in Big 12 history to win three times.
PERSONAL: Born Lauren Chamberlain on July 2, 1993 in Orange, CA. She is the daughter of Patrick and Pam Chamberlain and has a younger sister, Danielle. Graduated from the University of Oklahoma in 2015 with a degree in women and gender studies.