Chelsea Goodacre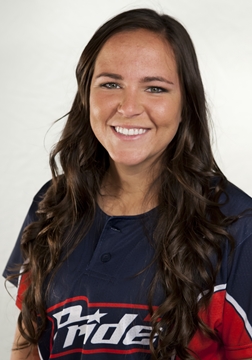 Height: 5'4″   Bats: L   Throws: R
Years Pro: 3rd year
College: Arizona
Hometown: Temecula, CA
Social Media: Click Here
PROFESSIONAL: Chelsea enters her third season with the Pride. Goodacre was signed by the USSSA Pride prior to the 2015 season as a free agent.
2016 Season: Goodacre finished hitting .325 in 120 at-bats with 18 runs scored, 39 hits, 5 doubles, 8 HR and 28 RBI.
2015 Season: Goodacre finished her rookie season with 4 RBI's, 3 doubles, 1 home run, 15 hits, 21 total bases, a .219 on base percentage, and a .208 batting average.
COLLEGE: Finished 5th in Arizona's history of players hitting home runs (71) in their career, 7th in total career RBI (240) and 6th in Arizona softball history to hit over 20 home runs in consecutive seasons. Senior (2015): NFCA Second Team All-American, 3-time All Pac-12 First Team, NFCA Div I First Team All-Region West. Junior (2014): Named First-Team All-Pac-12 and Second-Team NFCA All-West Region, Pac-12 All-Academic honorable mention selection. Led the Pac-12 in both home runs (22), 4th in the nation, and RBI (72).  Sophomore (2013): Named to the All-Pac-12 First-Team, Second-Team selection to the NFCA All-Region West. Freshman (2012): Pac-12 All-Freshman honorable mention selection.
PERSONAL: Born Chelsea Kathleen Goodacre on September 26, 1993 to Mark and Renee Goodacre. Chelsea has one brother, Justin Del Mar. In her free time, enjoys hanging out with family and friends and practicing. Graduated from Arizona in 2015 with a general studies degree. Currently volunteers as the graduate assistant coach for Arizona softball.