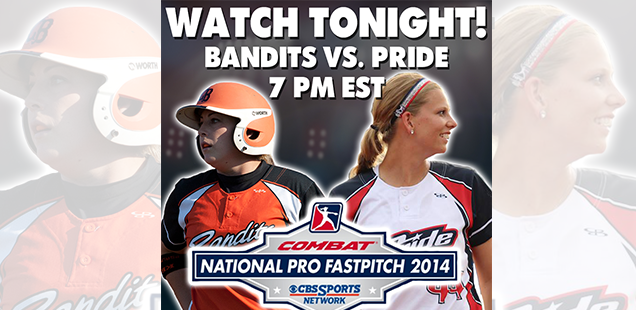 By: Jami Lobpries
Kissimmee, FL-July 21, 2014–The final two games of the USSSA Florida Pride and Chicago Bandits series will be broadcast live on CBS Sports Network. First pitch for Monday and Tuesday's games is set for 7:05 PM (ET) at Disney's ESPN Wide World of Sport Complex. The USSSA Pride currently lead the series 2-0 after a seventh inning walk-off win Saturday night and a 5-0 shutout Sunday night. This series serves as a rematch between the 2013 National Pro Fastpitch (NPF) Championship where the Pride beat the Bandits to claim their second Cowles Cup. Currently, the Pride sit atop the NPF standings with a record of 22-8 while the Bandits are second at 17-11.
Veteran play-by-play announcer Eric Collins and analyst Barbara Jordan will call the action for CBS Sports Network. The series features seven former US and Canadian Olympians, eleven NCAA National Champions, and five NCAA Players of the Year. Additional highlights of the series include:
During the Pride and Bandits series, USSSA is hosting the 2014 USSSA Fastpitch World Series at ESPN Wide World of Sport Complex. Teams from across the country in 14U, 16U, and 18U will be competing for the World Series title in their respective age division. The Pride players will be making appearances and signing autographs throughout the USSSA World Series.
CBS Sports Network is the 24-hour home of CBS Sports and is available across the country through local cable, video and telco providers and via satellite on DirecTV Channel 221 and Dish Network Channel 158. For more information, and to access the CBS Sports Network channel finder, go to www.cbssportsnetwork.com.
The Pride will return to the Wide World of Sports Complex with a four game series against the Akron Racers July 24-26.
About USSSA Florida Pride:
The USSSA Florida Pride is a professional franchise in the National Pro Fastpitch League that is owned and operated by USSSA. The amateur organization of USSSA has multi-sport coverage and encompasses teams and players from the United States and abroad.
About NPF:
National Pro Fastpitch is headquartered in Nashville, TN. The league, created to give elite female fastpitch players the opportunity to pursue a professional career in their chosen sport, has operated since 1997 under the names of Women's Pro Fastpitch (WPF) and Women's Pro Softball League (WPSL). NPF is the Official Development Partner of Major League Baseball in the category of women's fastpitch softball since 2002.
About USSSA:
The United States Specialty Sports Association (USSSA), headquartered in Osceola County, Florida, USSSA is the World's Largest Multi-sport Athletic Organization. Founded in 1968, USSSA has grown to over 3.7 million participants, competing in 13 nationally sanctioned sports including Baseball, Fastpitch, Slow Pitch, Karate, Basketball, Soccer and more! For more information on USSSA and to register your team visit USSSA.com. Also be sure to visit USSSAToday.com for the latest USSSA.