Tonya Callahan
RETIRED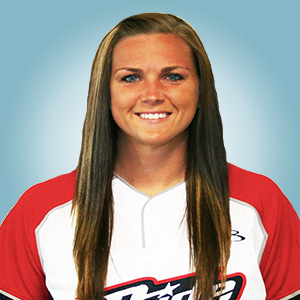 Height:
5'8″
Bats:
R
Throws:
L
Years Pro: 4th year
College: Tennessee
Hometown: Holden, MO
2011 Season: Missed a large portion of the 2011 Pride season due to injury…Played in her second season with the Pride…Averaged .152 in 35 at-bats…Had a .268 on-base percentage…Had 3 RBI.
Professional: Won an NPF Championship (2010). 2010: Joined the Pride…Averaged .270 in 122 at-bats…Had a .379 on-base percentage…Had 18 RBI.  2008: Selected 3rd overall in the NPF Draft…Joined the Rockford Thunder in her NPF debut…Average .222 in 126 at-bats…Had a .347 on-base percentage…Had 23 RBI…Hit 7 homeruns.
College: Graduated from the University of Tennessee in 2008…Named the 2008 SEC Player of the Year…Named a 3-time 1st Team All-SEC selection (2006, 2007, and 2008)…Recognized as a 1st Team All-American (2008)…Named the SEC Player of the Year (2008)…Recognized as a USA Softball Player of the Year Finalist (2008)…Named a Honda Award Finalist (2008)…Received an Edamerica All Star Award (2006)…Named Lady Vol Athlete of the Week 5 times…Named NFCA National Player of the Week 2 times…Named USA Softball National Collegiate Player of the Week 2 times…Named the SEC Player of the Week 2 times…Set career and single-season homerun records at the University of Tennessee…Left the University of Tennessee as the career leader in homeruns with 51, RBI with 241, and total bases with 492.  SENIOR:  Averaged .465 in 157 at-bats…Hit 16 homeruns…Had 62 RBI…Had a .630 on-base percentage…Had a .854 slugging percentage…Had 154 assists…Had a .979 fielding percentage.  JUNIOR: Broke UT's homerun record…Had a .385 batting average…Hit 16 doubles…Hit 11 homeruns…Had 60 RBI.  SOPHOMORE: Had a .365 batting average…Hit 13 homeruns…Had 73 RBI.  FRESHMAN: Had a .300 batting average…Hit 11 homeruns…Had 46 RBI.
Personal: Born September 30, 1985 to Darrell and Terry Callahan in Warrensburg, Missouri…Has an older brother, Shawn Callahan, who played baseball in the Majors 2005…Was the Youngest person to be invited to an Olympic Softball tryout during her junior year of high school in 2003… Led her summer ball team, the Kansas City Peppers, to a 1st place finish at the USSSA Nationals in 2002…Was a 4-letter winner in 3 sports (volleyball, softball, and basketball) at Holden High School in Holden, Missouri …Was a member of Who's Who Among High School Students, the National Honor Society, and the Holden High School Honor Roll while in High School…Graduated for the University of Tennessee in 2008 where she majored in child and family studies.