Sharonda McDonald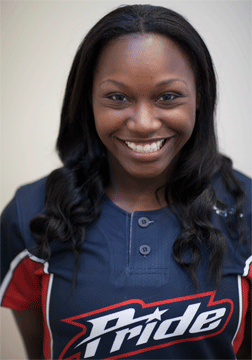 Height: 5'4″   Bats: L   Throws:R
Years Pro: 7th year
College: Texas A&M
Hometown: Houston, TX
Social Media: Click Here
PROFESSIONAL: McDonald is entering her 6th season in the NPF, but her first with the USSSA Pride. McDonald was signed to the Pride roster in April to add speed to the roster. McDonald sat out the 2013 season after playing with the Akron Racers in 2012. All-NPF Team selection Outfielder in 2007, 2008 and 2012. 2012 Diamond Spikes Award Winner. McDonald has a career batting average of .280 with 96 runs scored, 18 HR/s and 29 walks.
2014 Season: McDonald ended the season with 7 stolen bases and 9 runs scored. She recorded a batting average and an on base percentage of .258. She also had 8 hits and no errors for this season.
2012 Season: McDonald recorded a .303 batting average and added 13 stolen bases with Akron and shared the NPF's Golden Spikes award with Amber Patton.
2011 Season: Returning to the Racers, McDonald averaged .247 with 15 runs scored, 3 RBI's, 1 walk and 8 stolen bases.
2010 Season: Joining the Akron Racers, McDonald averaged .200 with 10 runs scored, 4 RBI's and 4 walks.
2008 Season: Returning to the Force, McDonald had a .299 batting average, adding 16 stolen bases. Named a 2008 NPF All-Star selection.
2007 Season: In her Rookie season debut with the Philadelphia Force, McDonald averaged .331 up at the plate, fourth-best in the NPF, and picked up 13 stolen bases en route to All-NPF honors during her rookie campaign.
COLLEGE: Played at Texas A&M for the Aggies from 2004-07. 3-time NFCA All-Region, 4-time All-Big 12 selections. She holds Aggie single-season records for runs scored (60), stolen bases (48), and also ranks as the program's all-time leader in both categories. Her 48 steals in 2005 led the nation and helped her earn the 2005 NCAA Division I Softball Golden Shoe Award awarded to the nation's top baserunner. McDonald holds A&M's sixth-best career average at .338 and is second all-time with 249 hits. She also boasts the Aggies' top three single-season stolen base marks. After concluding her collegiate career, McDonald spent a year with Texas A&M's strength and conditioning program where she worked the women's basketball, softball and volleyball programs.
PERSONAL: McDonald received a bachelor's degree in Kinesiology from Texas A&M in 2008. She lives in Baton Rouge.