Natasha Watley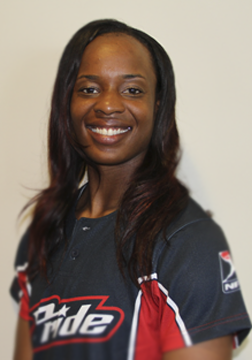 Height: 5'10"   Bats: L   Throws: R
Years Pro: 8th year
College: UCLA
Hometown: Irvine, CA
Social Media: Click Here
PROFESSIONAL: Watley enters her 8th season in the NPF. Debuted with the New York Juggernauts in 2005 before moving to the Philadelphia Force in 2006. Watley left the NPF for the next three seasons only to return in 2010 to the USSSA Pride. 2011 & 2012 All-NPF Team at Shortstop. 2010 All-NPF Team at-large bid at Shortstop. 2012 Jennie Finch Award Winner. 2011 Louisville Slugger Offensive Player of the Year. 2011 Ringor Diamond Spikes Award with 16 stolen bases.
2014 Season: Watley totaled 48 hits with 26 runs scored and 6 RBI. She achieved a batting average of .403 and an on-base percentage of .458 with 3 stolen bases.
2013 Season:  Watley led the offense for the Pride with a .363 average.  The All-NPF shortstop scored 42 runs, while getting 53 hits.  Her 5 doubles, 1 triple and 5 homeruns helped her post a .514 slugging percentage to go along with her .453 on base percentage.  Watley continued to demonstrate her speed swiping 13 bases on the season.
2012 Season:  Watley had another outstanding season for the Pride, batting .382 on the year with 11 stolen bases, 2 HR, and 17 RBI. Watley also was voted to the Combat All NPF Team and was a recipient of The Jennie Finch Award. The Jennie Finch Award is awarded to the player who shows excellence in sportsmanship, leadership and humility both on and off the field.
 2011 Season:  Named the NPF Offensive Player of the Year. Led the league in batting average with .481 in the regular season, Tied for the league lead in at 3 triples with Tammy Williams, Led the NPF in stolen bases with 16, Led the NPF in plate appearances with 131, Had 18 multi-hit games, Had 7 3-hit ballgames, Had a .467 on-base percentage in all of 2011 play, Had 26 RBI.
2010 Season: Joined the Pride. Had 15 stolen bases, 138 at-bats, a .423 on-base percentage, a .406 batting average and 7 RBI. Won the NPF Championship. Named MVP of the National Championship Series.
2006 Season: Joined the Philadelphia Force. Stole 4 bases, had 153 at-bats, a .268 batting average, 34 RBI, and hit 15 homeruns.
2005 Season:Made her NPF debut with the New York Juggenaut's. Stole 9 bases, had 96 at-bats, 37 hits, a .443 on-base percentage, a .385 batting average and 5 RBI's.
NATIONAL TEAM EXPERIENCE: Won an Olympic Gold Medal (2004), Won an Olympic Silver Medal (2008), Won 3 World Cup Championships (2006, 2007, and 2010), Won 3 World Championships (2002, 2006, 2010), Won 2 Pan American Gold Medals (2003 and 2007).
COLLEGE: Played Softball at UCLA from 2000 to 2003. 4-time First-Team All-American, Women's College World Series Champion (2003), 2003 Honda-Broderick Cup for the Top Collegiate Female Athlete, 2003 Pac-10 Player of the Year. Finished top 3 in UCLA history for career hits (395), finished top 5 in UCLA history for career runs (252), finished top 10 in UCLA history for career batting average (.450), finished top 10 in UCLA history for career stolen bases (158). Holds the single season record for hits (112) at UCLA ranking 4th in Pac-10 history as well as 7th in the All-Time NCAA record books at graduation.
PERSONAL: Born on November 27, 1981 to Edwin and Carolyn Watley in Canoga Park, California. Graduated from UCLA in 2005 with a degree in Sociology. Earned a Master's Degree in Sport Business in 2011 from Saint Leo University. Currently resides in Los Angeles, California. Recently started the Natasha Watley Foundation to provide more softball playing opportunities in under-served communities.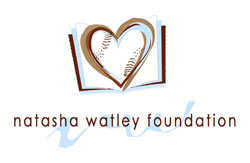 The Natasha Watley Foundation (NWF) was founded by UCLA graduate and two-time Olympic medalist Natasha Watley. Established to create opportunities for girls in underserved communities to learn and play the game of softball. NWF uses the medium of sport to inspire young women to reach their full potential while fostering character development and awareness of social issues that affect women.The mission of the Natasha Watley Foundation is to empower young women to make healthy lifestyle choices, develop strong self-esteem, and to become leaders of character through participation and training in the sport of softball. Click here to Download a PDF to read more about Natasha's foundation.