Melissa Roth
RETIRED
Number: 22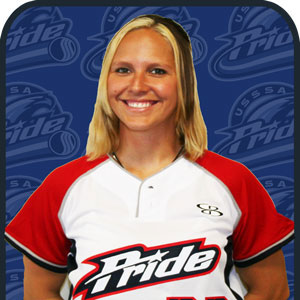 Position: C
B/T: L/R
College:  University of Louisville
Hometown: Long Beach, CA
Professional: In 2010 this rookie became a catalyst for the Pride, playing 38 out of 57 as catcher and DH. Melissa posted a .250 average with 1 homerun and 20 RBI in her rookie campaign with no errors at her selective position. She helped lead the Pride to a 2010 national championship.
College: Melissa Roth started every game at catcher in her freshman, sophomore, and junior seasons. As a sophomore, she was an All-BIG EAST third team selection and Team Co-Captain. Melissa led the team with a .471 on-base percentage and nine stolen bases. She led BIG EAST with 43 runs scored and tied for school record for doubles in a single season. Melissa  was selected to USA Softball Pan American Qualifier team,  Louisville Slugger/NFCA All-American (second team), Louisville Slugger/NFCA All-Great Lakes Region selection, 2009 BIG EAST Player of the Year, All BIG EAST Conference first team selection in her junior year As a junior, Roth set school records with both her batting average (.444) and slugging percentage (.870). During the 2010 regular season, Roth had a .405 batting average and 1.345 OPS. She also ranked fifth in the nation in stolen bases and her slugging percentage of .850 ranked her ninth in the nation. The highlight of Melissa's collegiate career could have come when she set a school record with three home runs against Albany in her junior season.
Personal: Melissa Roth was born on October 15, 1988 to Galen and Christina Roth. Melissa was the Best Offensive Player for high school team three years while being the MVP for two years. She also collected Best Defensive Player for one year and a Rookie of the Year award. The multi-talented star was also lettered in golf for four years under Coach Ken Munger. She collected a degree in marketing while attending the University of Louisville.