Megan Willis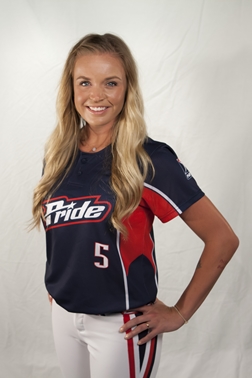 Height: 5'8″   Bats: R   Throws:R
Years Pro: 8th year
College: Texas
Hometown: Chandler, AZ
Social Media: Click Here
PROFESSIONAL: Willis enters her 8th season in the NPF. Willis started her NPF career with the Chicago Bandits in 2007, moved to the Rockford Thunder in 2009 after missing the 2008 season, and joined the USSSA Pride in 2010. Willis has a career batting average of .221 with 54 runs scored, 12 doubles, 13 HR, 66 RBI's and 36 walks.
2014 Season: Ended the season with 16 hits, 5 RBI and batted .242. She also finished with a .301 OBP.
2013 Season: Continued her steady play behind the plate without committing a single error in 18 games caught. She hit .256 with 7 RBI. Came up big gunning out two base runners during the Pride's run through the championship series.
2012 Season: Batted .271 with 5 HR and 12 RBI while accumulating 12 walks.  Had only 4 errors on the season as the starting catcher and finished the NPF Championship series 1-11 where the 1 hit was a 2-run HR.
2011 Season: In 2nd season with the Pride, missed a large portion of the season due to a hand injury.  Had 181 putouts, tallied 5 assists, 10 RBI, posted a 1.000 fielding percentage and a .255 batting average.  Achieved a .304 OBP, and a .392 slugging percentage.
2010 Season: Helped the Pride win a NPF Championship.  Named to the All-NPF Team. Started 40 out of 57 games, had 172 putouts, 7 assists, 18 RBI, batted for a .248 average, achieved a .308 OBP, and racked up a .390 slugging percentage.
2009 Season: Joined the Rockford Thunder, reuniting with former college teammate Cat Osterman. Helped the Thunder earn their first NPF Championship with 9 RBI, a .230 slugging percentage, averaged .195 batting, and a .271 OBP.
2007 Season: Drafted by the Chicago Bandits in the 2nd Round of the 2007 NPF College Draft. Finished her Rookie season with a .169 batting average, 5 runs scored, 6 RBI's and 5 walks.
COLLEGE: Graduated from the University of Texas in 2007, Named a 2nd Team All-Big 12 selection twice (2005, 2006), 2005 All-Big 12 Tournament Team, two-time Big 12 Defensive Player of the Year (2007 and 2006), Set University and Big 12 single season records for putouts with 762 (2006) and total chances with 795 (2006).
PERSONAL: Born Megan Jo Willis on February 8, 1985. Graduated from the University of Texas in 2007 with a degree in Corporate Communications.  Megan volunteers as an Assistant Coach at the University of Texas.