Madison Shipman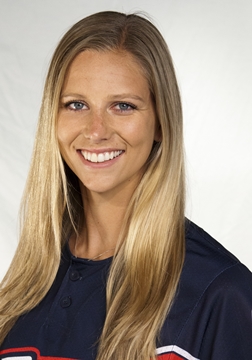 Height: 6'1″ Bats: R Throws:R
Years Pro: 2nd year
College: Tennessee
Hometown: Valencia, CA
Social Media: Click Here
PROFESSIONAL: Shipman enters her second season in the NPF for the 2015 season. Shipman was drafted by the USSSA Pride in the 2014 NPF College Draft as the 2nd overall pick. Her National/International experience includes: 2012 U.S. Elite Team Member, and a 2010-11 U.S. Junior National Team Member.
2014 Season: Shipman totaled 45 hits, 28 RBI and 21 runs scored for her premier season with the Pride. She also batted .344 and achieved an on-base percentage of .417. 2014 NPF Rookie of the Year and first-time All-NPF team at-large.
COLLEGE: Shipman finished her career at Tennessee with a .348 average, 44 home runs, 105 walks, a .611 slugging percentage and 207 RBI. SENIOR (2014): Lowe's Senior CLASS Award Winner, SEC Player of the Year, Honda Award Winner as the "Best of the Best in Softball," Honda Cup Winner, USA Softball Collegiate Player of the Year Top 25 Finalist, Top 50 "Watch List" for 2014 USA Softball Player of the Year, Preseason All-SEC, NFCA Second-Team All-Southeast Region, NFCA First-Team All-American. JUNIOR (2013): NFCA First-Team All-American, NFCA First-Team All-Southeast Region, WCWS All-Tournament Team, All-SEC, SEC All-Defensive Team. SOPHOMORE (2012): Louisville Slugger/NFCA Second-Team All-American, Louisville Slugger/NFCA First-Team All-Southeast Region, All-SEC. FRESHMAN (2011): Freshman All-SEC.
PERSONAL: Madison Taylor Shipman, born on June 25, 1992 in Houston, TX. Daughter of Bill and Lorri Shipman. Majored in Anthropology at the University of Tennessee. Has two sisters, Amanda and Allysa, and a brother, Billy. Her cousin Nolan Morrell swam freestyle/individual medley for the University of Tennessee from 2005-09.