Kelly Kretschman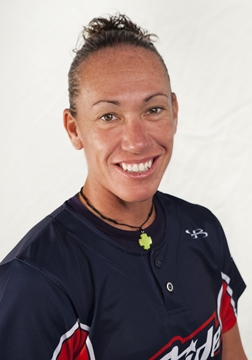 Height: 5'6″   Bats: L   Throws:R
Years Pro: 12th year
College: Alabama
Hometown: Indian Harbor, FL
Social Media: Click Here
PROFESSIONAL: Kretschman enters her 12th season in the NPF. In 2016 Kretschman finished as NPF Player of the Year, Offensive Player of the Year, Home Run Champion and became the first Triple Crown Winner in NPF history. Kretschman has three-times been named to the All-NPF Team as an Outfielder (2011, 2015 & 2016) and twice named as an at-large selection for the All-NPF Team (2012 & 2013). She's been a part of 5 NPF Championship teams; Akron Racers (2005), Washington Glory (2007), and USSSA Pride (2010, 2013 & 2014). Kretschman's career stats include 227 runs scored, 210 RBI, 63 doubles, 45 HR's and 235 walks.
2016 Season: Kelly Kretschman had her best professional year yet finishing the 2016 season as the first Triple Crown Winner in NPF history leading the league in HR (13), RBI (45) and AVG. (.466) to earn the prestigious title. Kelly was named 2016 NPF Player of the Year to earn back-to-back titles as league MVP (2015 & 2016) and earned her spot on the All-NPF team (RF) for the fifth time in her career. Kretschman also earned the title of 2016 Offensive Player of the Year & Home Run Champion and earned league-leading marks in runs scored (44), total bases (111) and only second in hits (63) and walks in 52 games to close out her 11th season.
2015 Season: Named NPF Player of the Year for the first time in her seasoned career and made the All-NPF team for the fourth time. Kretschman enjoyed her best professional season hitting .338 with 7 home runs, 22 RBIs, and swiping a perfect 10-10 stolen bases. She ranked in the top five for eight offensive categories including 2nd in stolen bases, total bases, and sac flies, 3rd in total hits, 4th  in batting average, slugging percentage, and runs scored, and tied for 5th in home runs. Kretschman started 46 of 48 games and was the Pride's most consistent offensive threat throughout the season.
2014 Season: Kretschman finished the season with 30 hits, 20 RBI and 11 runs scored. She batted a .265 average and achieved a .344 on-base percentage. She also continued her streak of posting a 1.000 fielding percentage.
2013 Season:  Kretschman was one of three outfielders named to the All NPF team in 2013. She hit .314 with 4 doubles, 1 HR and 17 RBI. Her 24 walks helped aid her to a .806 OBP. Kretschman played flawless in right field posting a 1.000 fielding percentage.
2012 Season: Had another excellent season in 2012, hitting .373 which was up .73 points from 2011, while having more at-bats. She smashed 3 HR with 24 RBI. Kretschman was also an at-large Nominee for the Combat All NPF Team.
2011 Season: Played for a 3rd season with the pride. Had a .300 batting average in 70 at-bats, a .437 OBP and 10 RBI.
2010 Season: Led the team with 6 HR and 25 RBI in the regular season.  Finished 2010 with a total of 7 HR. 29 RBI, a .297 average in 145 at-bats, and a .419 OBP.
2009 Season: Joined the Pride in their inaugural season. Led the team with 8 HR, 21 RBI, and a .350 regular season batting average, with a .451 OBP.
2007 Season: Joined the Washington Glory. Had a .333 average in 51 at-bats with 5 RBI, and a .528 OBP.
2006 Season: Played for the Connecticut Brakettes. Had a .410 average in 100 at-bats with 12 RBI and a .566 on-base percentage.
2005 Season: Joined the NPF playing for the Akron Racers. Managed a .280 average in 75 at-bats with 13 RBI and a .393 on-base percentage.
NATIONAL TEAM EXPERIENCE: Played for the USA National Team, won an Olympic Gold Medal (2004), won an Olympic Silver Medal (2008), won a Gold Medal at the Canada Cup (2003), won Gold at the World Cup (2007), won Silver at the World Cup (2005), won Gold at the Pan American Games (2007).
COLLEGE: Graduated from the University of Alabama in 2001, All-College World Series Team (2000), Honda Award nominee, 3-time 1st Team All SEC, 4-time NFCA All-American, led the NCAA with 25 HR in her Freshman season (1998).
PERSONAL: Born on August 26, 1979 to Ken and Susan Kretschman in Indian Harbour Beach, FL. Has a half-brother and 2 half-sisters. Joined the Texas State University softball program as assistant coach in 2015.