Keilani Ricketts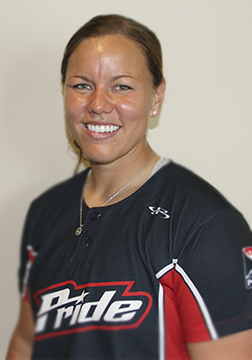 Height: 6'2″   Bats: L   Throws: L
Years Pro: 5th year
College: Oklahoma
Hometown: San Jose, CA
Social Media: Click Here
PROFESSIONAL: Ricketts enters her 5th season in the NPF. Ricketts was selected 4th overall out of Oklahoma by the USSSA Pride in the 2013 NPF College Draft. The USA softball collegiate player of the year led the Sooners to the Women's College World Series Championship in 2013 and was a member of team USA for two summers.
2016 Season: Ricketts batted .269 and achieved a .321 OBP. In just 26 at-bats Keilani totaled 7 hits, 2 runs scored, 5 RBI and 1o total bases. Defensively, Ricketts ended the regular season with a 8-5 record, and posted a 2.37 ERA throwing 85 strikeouts in a total of 91.2 innings.
2015 Season: Keilani started 12 games and completed her third season with an overall record of 7 wins and 5 losses with a 2.27 ERA. In 74 innings pitched Keilani struck out 83 batters and kept her opponents to a .218 batting average.
2014 Season: Ricketts batted .250 and achieved a .308 OBP.  She ended the regular season with a 6-6 record, and posted a 1.86 ERA throwing 50 strikeouts in a total of 60 innings.
2013 Season: Joined the Pride roster in August of 2013. Finished the regular season 2-2 striking out 30 hitters in 25.1 innings. Posted a .267 batting average. Finished 1-1 after earning the win in the championship game, throwing 8 strikeouts in 4.2 innings during the Pride's Championship run.
COLLEGE: Two-time USA Softball Collegiate Player of the Year (2012-13), 2013 WCWS Champion, 2013 NFCA First Team, 2013 WCWS Most Outstanding Player, 2013 Big 12 Pitcher of the Year, 2013 All-Big 12 Defensive Team, 2012 Honda Softball Player of the Year, 2013 Honda Cup winner, NFCA First Team All-American (2011-13), 2010 NFCA Second Team All-American, 2012 Big 12 Player of the Year, Finalist for 2012 Women's Sports Foundation Sportswoman of the Year, 4-time All-Big 12 First Team, 4-time NFCA All-Central Region First Team, 2010 Big 12 Championship Most Outstanding Player, 2010 Top-25 finalist for USA Softball's National Collegiate Player of the Year.
PERSONAL: Born Keilani Ricketts on September 1, 1991 to Jeff and Carol Ricketts in San Jose, CA. Has three siblings; Samantha (2016 Pride Assistant Coach), Richard (a member of the Air Force Academy football team) and Stephanie (a former softball player at the University of Hawaii). Majored in Communications at Oklahoma.