Jenn Salling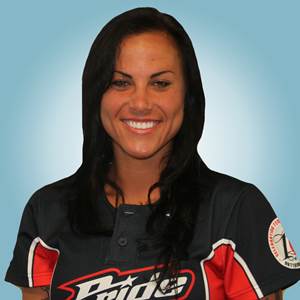 Height: 5'5″   Bats: L   Throws: RYears Pro: 4 th yearCollege: WashingtonHometown: Port Coquitlam, BC, Canada
Twitter: @jennsailling
Assisiant Coach Roosevelt University
2013 Season: Jenn had a break out year at the plate in 2013, she had a .305 BA and 10 RBI's
2012 NPF SEASON: In 2012, Salling batted .182 in her 2nd NPF season, with 0 HR and 4 RBI with 6 walks.
PROFESSIONAL: 2011: Drafted with the 3rd overall pick to the USSSA Florida Pride in the 1st round of the 2011 NPF Draft. In the 2011, her rookie season, Jen joined the USSSA Pride and in her NPF Debut…Had a .214 batting average…Had a .327 on-base percentage…Had 4 RBI…Had 5 walks.
NATIONAL TEAM EXPERIENCE: Member of the Canadian National Team…Won a Bronze Medal at the World Championships (2010)…Won Bronze at the World Cup (2009)…Won Silver at the Canada Cup (2009)…Played in the 2008 Summer Olympics for Canada with Danielle Lawrie where she started at shortstop and batted clean up in all of Canada's Olympic contests.
COLLEGE: Graduated from the University of Washington in 2011…Named a 1st Team NFCA/ Louisville Slugger All American…Named to the All-Pacific Region Team…Named to the All-Pac 10 Team 3 times…Named to the 1st Team All-Region 3 times…Recognized as the 2009 Pac 10 Newcomer of the Year…Named the 2011 Pac 10 Defensive Player of the Year…Recognized as an Academic All-Pac 10 Honorable Mention…Named Husky Offensive MVP…Named a Top 25 Finalist for the 2010 USA Softball Collegiate Player of the Year…Named an All-American 3 times…Recognized as a Top 10 Finalist for Player-of-the-Year her Freshman Year at Oregon…Named a Top 25 Finalist for Player of the Year 2 times (2011 and 2010)…Named a Top 10 Finalist for the Lowe Senior Class Award…Named Outstanding Athlete of the Year (2011)… Left UW with a .342 career batting average, 97 walks, a 9th best .543 slugging percentage, and a 5th best on-base percentage with .474 …  SENIOR: Had a batting average of .374…Had an on-base percentage of .508…Had 44 runs…Had 6 homeruns…Had 43 RBI…Hit for a .639 slugging percentage…Achieved a .968 fielding percentage…Had 96 putouts…Had 116 assists. JUNIOR: Had a .352 batting average…Had a .481 on-base percentage…Had 51 runs…Hit 6 homeruns. SOPHOMORE: Became eligible to play for the Huskies on April 2nd…Hit for a .270 batting average in the final 15 games…Averaged .318 in the World Series…Averaged .415 in the postseason.  FRESHMAN: Played for the University of Oregon.
PERSONAL: Born Jennifer Claire Yolanda Salling in July 4, 1987 at Burnaby General Hospital in British Columbia to Marilyn and Todd Salling…Has 1 brother, Scott Salling…Named the top defensive player in her junior and senior basketball seasons…Named Top Offensive player on the volleyball team in 2005…Named MVP of both her basketball and volleyball teams…Inducted into Terry Fox Secondary School Hall of Fame…Graduated from the University of Washington in 2011, where she majored in anthropology.