Cat Osterman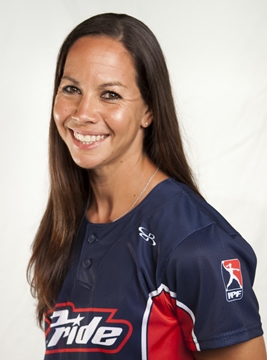 Height: 6'2″   Bats: –   Throws: L
Years Pro: 8th year
College: Texas
Hometown: Houston, TX
Social Media: Click Here
PROFESSIONAL: Enters her 8th season with the NPF. 2009 NPF's Most Valuable Player (Rockford Thunder), 2009 NPF Champion (Thunder), 2010 & 2013 NPF Champions (Pride), 2011 & 2012 NPF Regular Season Champions (Pride), 2011 & 2012 All-NPF Team Member, Shared the 2011 Diamond Sports Pitcher of the Year with Monica Abbott, and the 2013 Diamond Sports Pitcher of the Year with 234 K's in over 139 innings pitched. Osterman has a regular season NPF career record of 74 wins and 17 losses, tallying 991 strikeouts through the end of 2014.
2014 Season: Once again named NPF Pitcher of the Year. Ended the season with 16 wins and no losses, in 18 games.  Posted a .560 ERA and accumulated 160 strikeouts in 100 innings played. 2014 NPF Regular Season Champion and 2014 NPF Championship Series winner. Named 2014 Championship Series MVP.
2013 Season: Named the 2013 NPF Pitcher of the Year after taking home NPF Championship Series MVP honors. The First Team All NPF pitcher led the Pride with a 17-4 record, posting a 1.05 ERA stricking out 234 hitters. In the NPF Championships, she finished with a 2-0 record and got the save in the championship game, posting a 0.00 ERA.
2012 Season: Started 12 out of 18 games played in, had 9 wins and 4 losses, threw 97 innings posting a .71 ERA and 131 K's while holding her opponents to a .134 batting average.
2011 Season: Broke the team strikeout record and led the league with 156 strikeouts.  Also led the league in wins, achieving a 14-2 regular season record and completing the 2nd most games in the league. Finished 2nd in the NPF with a .93 ERA behind Monica Abbott at .80. Won 10 consecutive starts through the end of the season pitching for 6 shutouts.
2010 Season: Joined the USSSA Florida Pride. Had a 0.79 ERA with 36 strikeouts in 26.1 innings. Finished with a 3-0 record.
2009 Season: Returned to the Rockford Thunder. Was named to the 2009 All NPF Team.  Had a .42 ERA and 148 strikeouts in 84.1 innings pitched. Finished the season with a 11-1 record. Was named to the 2009 All NPF Team.
2007 Season: Joined the NPF, pitching for the Rockford Thunder. Had a 1.20 ERA and 126 strikeouts in 70.1 innings pitched.  Finished with a 4-6 record.
NATIONAL TEAM EXPERIENCE: Joined the USA National Team in 2001. Won 2 Pan American Gold Medals (2003, 2007), 4 World Cup Championships (2006, 2007, 2009, 2010), an Olympic Gold Medal (2004), an Olympic Silver Medal (2008), and 2 World Championships (2006, 2010).
COLLEGE: Graduated from the University of Texas in 2006 where she led the Longhorns to 3 Women's College World Series wins.  Was a 4-time NFCA All-American, 3-time Big 12 Female Athlete of the Year, and 4-time Big 12 Conference Pitcher of the Year. Was the first Big 12 student-athlete to earn 4 Player of the Year Awards, named an All-Big 12 Academic Team member for 3 years, 3-time USA Softball National Player of the Year (2003, 2006, 2007), set the NCAA career strikeout record and strikeout ratio record, ranked second all-time in career shutouts with 85, 2-time ESPY winner for Best College Female Athlete, and is a Honda Award winner.
PERSONAL: Born Catherine Leigh Osterman on April 16, 1983 to Gary and Laura Osterman.  Has 2 younger brothers, Craig and Chris.  Graduated from Cypress Springs (Texas) High School as the Gatorade National Softball Player of the Year. Majored in Psychology at the University of Texas.  Received a Master's Degree in Positive Coaching from the University of Missouri in May 2015. She is currently an assistant coach at Texas State University.