Cassie Tysarczyk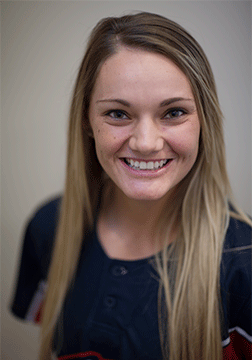 Height: 5'5″ Bats: L Throws: L
Years Pro: 2nd year
College: Texas A&M
Hometown: San Antonio, TX
Social Media: Click Here
PROFESSIONAL: Tysarczyk is entering her second season in the NPF.
2014 Season: Tysarczyk scored 5 runs, achieved an OBP of .267 and only had one fielding error for the summer 2014 USSSA Pride season. She also achieved a OPS of .350 during her first season with the USSSA Pride.
COLLEGE: Tysarczyk averaged .366 hitting her senior season (2014). 2014 SEC 12 All-Defensive First Team, 2014 Second Team All-SEC, 2014 NFCA Second Team All-South Region, 2014 NFCA Third Team All-American, 2012 All-Big 12 First Team, 2012 NFCA/Louisville Slugger All-Central Region First Team. Tysarczyk finished her career at Texas A&M with a .301 batting average, 161 runs scored, 40 home-runs, 145 RBI's, 98 walks, 28 stolen bases, a .409 on-base percentage and a .980 fielding percentage.
PERSONAL: Cassie Lynn Tysarczyk was born July 3, 1992 in Fairfax, Va. She is the daughter of Bob and Christi Tysarczyk of San Antonio, TX. Tysarczyk chose A&M "because of the family atmosphere and I want to be a part of the numerous traditions, playing for the 12th Man. It is the perfect place for me to continue my softball career." A 2013 graduate of Texas A&M with an undergraduate degree in Psychology, and she is currently getting her Master's degree in sport management. Tysarczyk is also volunteering for Haven for Hope, and is involved in the Best Buddies Volunteer Organization.