Breja'e Washington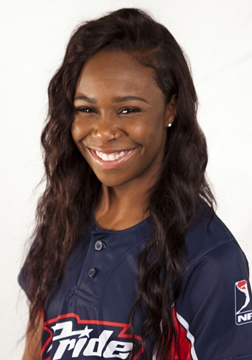 Height: 5'5″ Bats: L Throws: L
Years Pro: 2nd year
College: Texas
Hometown: San Bernardino, CA
Social Media: Click Here
PROFESSIONAL: Washington is entering her second season in the NPF. Breja'e was signed as a free agent in 2014. At the end of her rookie season Washington had the most stolen bases in the NPF with 17.
2014 Season: In Washington's first season in the NPF, she lead the Pride with an impressive 17 stolen bases and received  the Diamond Spikes Award for most stolen bases presented by Ringor.  Totaled 11 hits and 23 runs scored during the regular season and ended with a .314 batting average and a .933 field percentage.
COLLEGE: Washington is the all-time hit leader at Texas and has six first place offensive career records at Texas. Washington led the Longhorns her senior season (2014) with a .417 batting average. She also recorded a .500 on-base percentage, 31 walks, 18 RBI, and 33 stolen bases having only been caught 4 other times. Washington was also named to 2014 NFCA All-Central Region First-Team, 2014 All-Big 12 Defensive Team, 2013 NFCA All-Central Region Second-Team, 2013 All-Big 12 First-Team, 2013 All-Big 12 Defensive Team, and 2011 All-Big 12 Second-Team. Washington is the career record leader for triples and stolen bases.
PERSONAL: Breja'e Lynn Dashawn Washington was born September 7, 1992, in San Bernardino, CA. She is the daughter of Kinya and Contez Hearn, and has six siblings (Mychael Hearn, Naige Hearn, Travell Washington, Nene Washington, Tyler Washington and Kourtney Davis). Washington majored in Youth and Community Studies. She was a 2-time Big 12 Commissioner's Honor Roll selection (Spring 2011 and Spring 2012).