Amanda Kamekona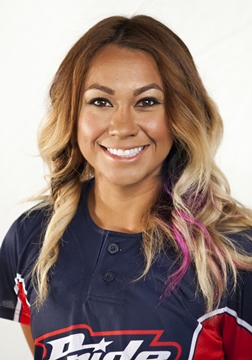 Height: 5'2″ Bats: R Throws:R
Years Pro: 5th year
College: UCLA
Hometown: Chino Hills, CA
Social Media: Click Here
PROFESSIONAL: Kamekona is entering her 5th season in the NPF. Kamekona started her NPF career with the Carolina Diamonds in 2012. Kamekona then moved on to play with the NY/NJ Comets in 2013. Her career stats include 92 hits, 18 home-runs and 58 RBI.
2015 Season: In 36 at-bats, Kamekona finished her fourth season in the NPF with 4 RBI, 1 home run, 6 hits, a .225 on base percentage, and a .167 batting average.
2014 Season: This season marked her first year with the USSSA Pride. Kamekona ended her third season in the NPF with 22 hits, 26 RBI and 13 runs scored for the Pride. She batted a .247 average, had 7 stolen bases and achieved an on-base percentage of .289.
2013 Season: Played with the NY/NJ Comets. While playing with the Comets she averaged .255 with 18 runs scored, 6 doubles, 5 home-runs, 15 RBI, 12 walks and a .309 on-base percentage.
2012 Season: Kamekona started her rookie season with the Carolina Diamonds. The 2012 season she averaged .271 with 4 home-runs, 13 RBI and a .314 on-base percentage.
COLLEGE: 2008 First-Team All-Pac-10, Second-Team All-Pacific Region, Third-Team All-American (UCLA). 2006 All-Big West Conference First Team (Cal State Fullerton).
PERSONAL: Born Amanda Lauren Kamekona on April 5, 1986 in Glendale, Calif. Her parents are Rosemary and Kory Kamekona. She has a younger sister, Iolani, and a younger brother, KJ. Admires baseball shortstops Derek Jeter and Ozzie Smith. Favorites include the movie "Bull Durham", actor Anthony Hopkins, singer Lil' Wayne and athletes Muhammad Ali and Michael Jordan.